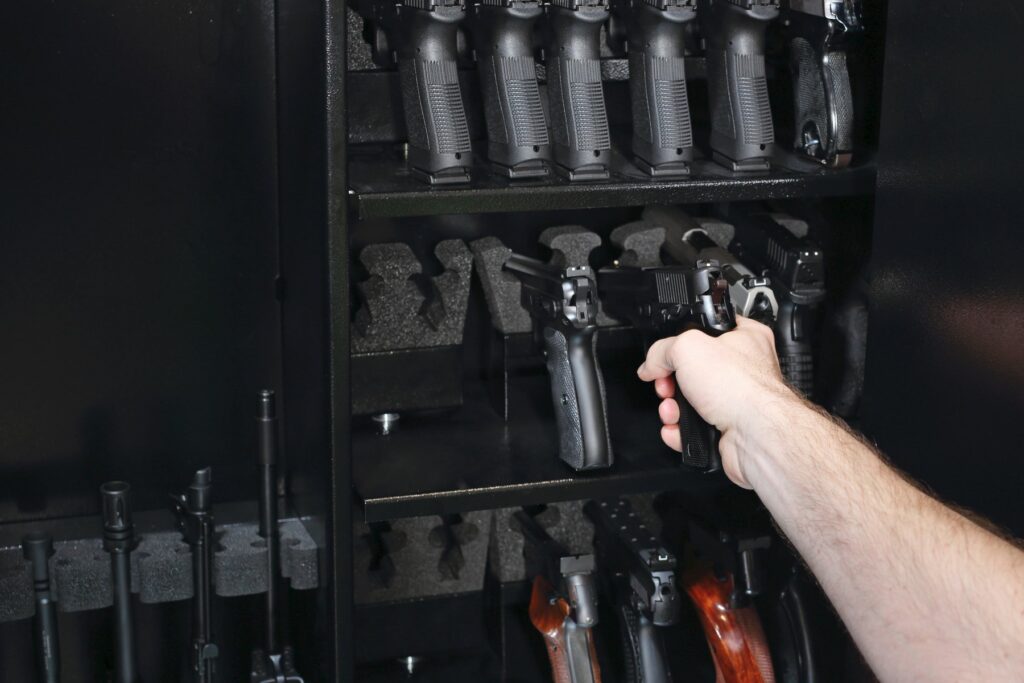 There is more to being a good gun owner than just picking out the best firearms, optics and ammo.  Storing guns safely is extremely important, especially when children or anyone else could access your firearms and potentially harm themselves or others. While that may sound intimidating, there are gun safety rules and guidelines that can help you be a responsible gun owner.
Below is a list five ways to store your firearms safely according to the NRA:
Use Trigger Locks – Most new weapons are now offered with a trigger lock included in the box, whether provided by the manufacturer or the dealer. Cable locks obstruct the action of a firearm, preventing rifles and shotguns from closing their actions. To prevent the trigger from being manipulated, a trigger shoe clamps down around the trigger or trigger housing. On a loaded weapon, you should never utilize a trigger clamp on most designs due to the lock's interaction with the trigger, but rather select an alternate safety device (refer to manufacturer's instructions for your specific weapon).
Use Legally Locking Gun Cases (and special TSA-approved gun cases for travel) – The major use of this type of low-cost carry case is to protect one or more weapons from physical harm, but the ability to lock the weapon or firearms is another important feature. Remember that gun cases, along with their contents, can be taken away and opened and pilfered at another site unless they are secured within some other lockable structure.
Use Security Cases or Strong Boxes –  Anti-theft and gun-finish protection qualities of a locking gun cabinet are frequently combined with the portability of handgun and long-gun carry cases in these types of weapons storage. When flying with commercial airlines, mounting gear and cables may allow the cases to attach directly to the trunk of a car, the wall of a closet, or the interior of a suitcase.
Use Gun Safes – It's usual for a first-time buyer to misjudge the amount of space he'll need, resulting in the need to spend more money later on to purchase another safe. When buying a gun safe, the larger safe and more protective the security, the more expensive the safe will be in most instances.  As such, you can always save with gun safe deals. When choosing a gun safe, key elements to consider include safe size, safe fire rating, steel thickness, key features (electronic safe, manual safe, quick-access safe, etc.)
Regardless of which combinations of gun safety measures you employ, be sure to get gun safe cashback and use available gun storage coupons whenever you make a purchase!