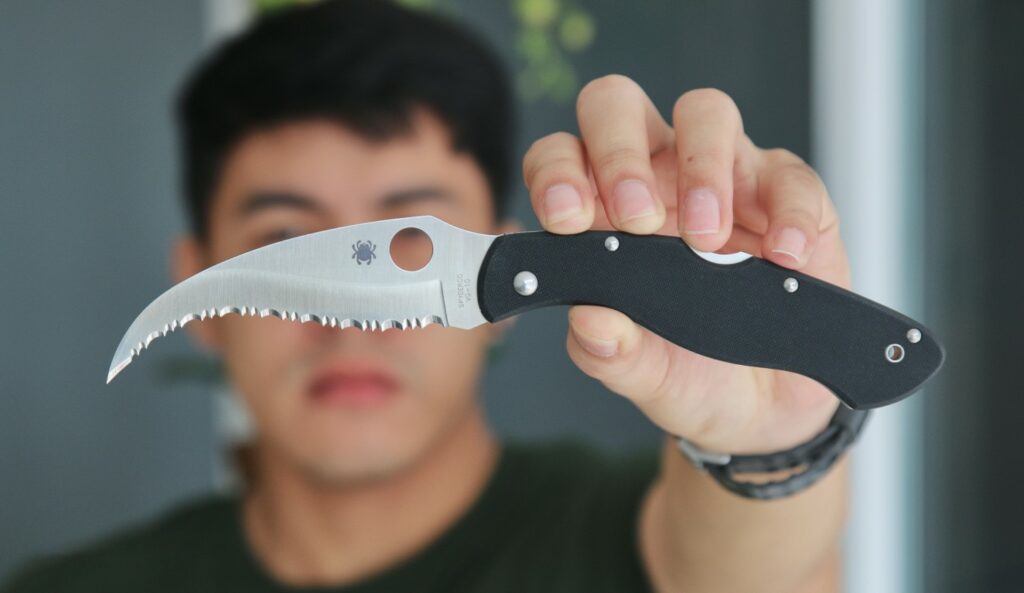 Even if they use a knife every day for personal or professional reasons, casual knife shoppers do not think about the anatomy of a knife in great detail. Before going knife shopping, it's a good idea to familiarize yourself with the essential components and sections of a knife, which include the following: Blade, Handle, Edge, Tang, Point, Tip, Spine, Heel, Bolster, butt, and rivets. What does the term "knife tang" refer to? The Tang is an important feature of a knife that is frequently overlooked. The tang is the non-sharpened part of the blade that connects the blade edge to the handle. The tang contributes to the overall balance, weight, stability, and strength of the knife. Knives with a 'full-tang,' which runs from the blade's end to the butt, are often considered the best. Some knives include a tang that also serves as a handle.
Tactical knives and hunting knives can be made of many materials, Stainless steel knife blades, ceramic knife blades, titanium knife blades, carbon steel blades, and, last but not least, Damascus knife blades are just a few of the options. While not as prevalent as other blades, Damascus knives are a favorite among knife enthusiasts due to their reputation for both performance and aesthetics. Damascus steel is made by pounding two or more different alloys together to create a strong steel with a wavy pattern. This type of steel has a long and storied history, having been used to create knives, swords, and other weapons for hundreds or thousands of years. It was first invented in medieval Damascus. Although this metal is extremely strong, sturdy, and sharp, it is also prized for its distinctive and beautiful appearance. There are a plethora of materials available to learn more about Damascus knives and blade technology.
Most casual knife owners are familiar with the two fundamental categories of knife blades: straight and serrated blades, but few are aware of the numerous types of knife blades that fall between those two classifications. One brand who features knives with many of these specialized knife blade types is Spyderco, a leading in daily carry knives and professional knives that innovated and developed many advanced features that have been adopted across most folding knife brands. Tanto blades, drop-point knives, gut hook knives, clip-point knife blades, needle-point blades, sheepsfoot blades, Wharncliffe blades, Talon Blades, Spey-point blades, trailing-point knife blades, and spear-point knife blades are just a few of the many specialized knife blades available. An individual knife may also include a combination of two or more blade types.
If you are looking for deals on knives, then there are sites where you can earn cashback on knives, and discover knife coupons, knife promo codes, and huge discounts on tactical and hunting knives. Other great opportunities exist to save on tactical gear other than knives, including great hunting gear deals.
There are many resources online to learn about safe knife handling, the best knife maintenance practices, knife laws, and more. It may be a good idea to educate children about knives and knife safety at a young age. Before purchasing a knife or traveling with one, be sure you are knowledgeable of local knife ordinances, state knife laws, and foreign knife legislation.